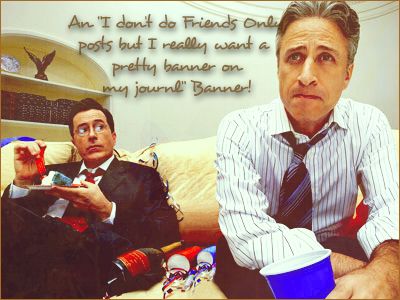 Jon and Stephen say, "Add Oni as a friend! You know you want to!"
Helpful Links

( My Graphics Journal )
( My DreamWidth )
( My Insanejournal )
( My DeviantArt )
( Story/Icon Challenges )
FAQ's
(
1. I have added you as a friend and you have no idea why.
Collapse
)
(
2. I want to add you as a friend, but I'm afraid you won't like me!
Collapse
)
(
3. I want an icon made for me and instead of asking a talented artist to make one for me, I want to ask you!
Collapse
)
(
4. Oni! Who is the older gentlemen on your layout that I now find myself strangly attracted to?
Collapse
)